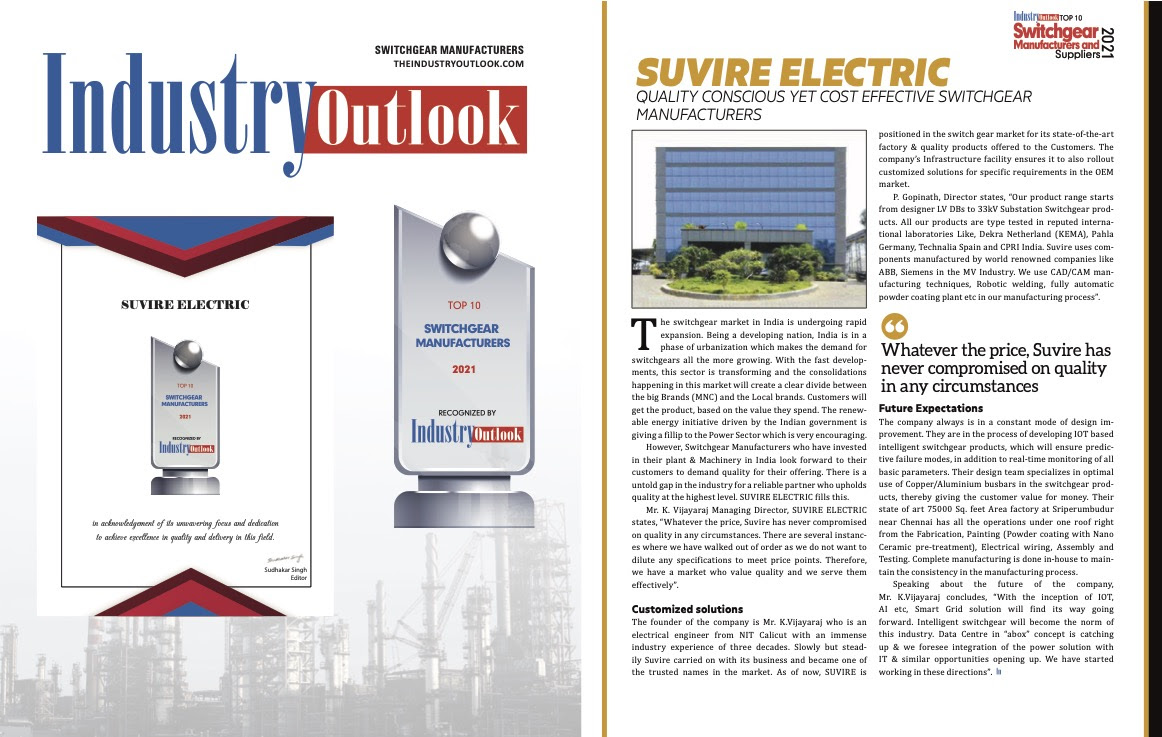 Capability
In-house, complex sheet metal activities with Amada CNC punching machines, automatic & eco-friendly powder coating unit, PU Foam Gasketting machine, Advanced Robotic Arm Welding Unit etc. setting the benchmark for quality standards in the Industry.
Design Competency
Mechanical Design :Design capability to customize Specific client requirements to products meeting IS/IEC standard.Achieve Compact Design with reduced assembled Parts.Ensures consistency and error free drawing.
Specialities
CE Marking for Recombiner Panel, Pahle Certificate for 11 KV Panels,  Certified Ferrosio Inspection, Specialised Nanoceramic Pre treatment before powder Coating,  IP55 ; Gasketting performed under controlled temperature
Suvire Electric Pvt Ltd
SUVIRE is one of World's leading manufacturers of Electric Switch gear Products including Medium & Low Voltage Distribution boards, Control Panels, customized Enclosures.The company is solution-focused and addresses the domestic and export markets in the Utility, Industrial and Renewable energy business segments.
The Suvire Group was promoted by Mr. Krishnan Vijayaraj, an electrical engineer from NIT Calicut, India and is the present Chairman of the group.Mr Vijayaraj with  an industry experience spanning over  three decades,has envisioned and guided the Suvire Group to emerge as a reliable organisation duly acknowledged by our customers.
Our Vision
To be seen as a one-stop-shop for all power distribution solutions in the Utility, Industry and Renewable Energy business segments.To play a vital role in the new era of growing technology and emerge as a globally recognized organisation in the infrastructure industry and specifically in the field of power.
Our Mission
Design, Engineer, Manufacture best-in-class power control and automation solutions with in-house capability.Customer centric approach, Innovation ,Respect for Individual, Employee Satisfaction, Customer Relationship Management, Business Ethics, Transparent Operational System.
General Electric
Danfoss India
Eaton Power Quality India
Concord Textiles India
Mainetti India Pvt Ltd
Abudabhi International Airport
Gulf Cement Company
BUAO Electric Company Honduras
Dubai Aluminium
Emirates Gas LLC
Dubai Metro
AL Jazeera Port
Ras AL Khaimah International Airport
Botonica Tower Dubai
Specialities
CE Marking for Recombiner Panel
Pahle Certificate for 11 KV Panels
Certified Ferrosio Inspection
Manufacturer of Mobile substation
 Certificates
ISO 9001 :2015
KEMA Test Certificate
CPRI Test Certificate
PAHLE Germany Test Certificate